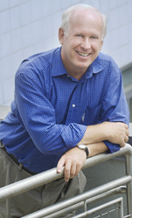 Greetings from Jeff Elman, Dean
Imagine our university as a home base where UNICEF, the United Nations and other aid organizations and foundations send professionals to learn about effective humanitarian and aid practices. This opportunity is not far off with the establishment of our Center on Global Justice, another exciting evolution in our effort to bridge great social science research and informed theory with actual practices in the real world. You can read about the center in our spotlight article in this e-Connection.

Click to Continue


Social Sciences News
Babies process language in a grownup way according to new research by Dean Jeff Elman and UC San Diego Health Sciences colleagues.
Sociologist David Phillips finds that SIDS deaths surge by 33 percent on New Year's Day.
Ethnic Studies alumna, Minh Tram Nguyen, leads an innovative public school serving predominately low-income and minority students.
Exposure to arsenic in rural Bangladesh is poisonous to the nation's economy according to new findings by Richard Carson and an international team of economists.
Archaeologist Tom Levy is featured in a new NOVA/Nat Geographic documentary "Quest for Solomon's Mines."
Noted psychologist Sandra Brown is named New Vice Chancellor for Research at UC San Diego.
Upcoming Events
Economics Roundtable, February 17, 2011 — Victor Nichols, chief executive officer of Experian North America, will discuss "Viewing the Recession Through the Lens of Consumer Data." UCSD Faculty Club. Time: 7:30-9 a.m. $50 fee includes parking and Continental breakfast. For more information or to register, call (858) 822-0510 or email emunk@ucsd.edu.
Social Sciences Supper Club, February 24, 2011 — What does an amputee who still feels a phantom limb have in common with an avant-garde artist, or a schizophrenic who claims to be controlled by alien implants, or an autistic child who can draw a hyper-realistic horse? According to neuroscientist V.S. Ramachandran, M.D., Ph.D., named by Newsweek as one of the 100 people to watch in the 21st century, the answer lies deep in the physical configurations of the brain. Join him for a thought-provoking discussion on, "Uniqueness of the Human Brain and the New Era in Rehabilitation." Supper Club events include a wine reception, full dinner and parking. UCSD Alumni will enjoy a special rate of $50 in honor of UCSD's 50th Anniversary (regularly $65). UCSD Faculty Club. Time: 5:30 p.m. For reservations or additional information, please contact Marcie Marsh at (858) 246-0372 or mmarsh@ucsd.edu.
Urban Studies & Planning EXPO XXI, March 10, 2011 — Join us for the Urban Studies and Planning EXPO XXI as we also celebrate UC San Diego's 50th Anniversary. The reception for USP alumni and students will be followed by a program highlighting the USP seniors' academic accomplishments and a keynote speaker. Price Center UCSD. Time: 3:30-5 p.m. For more information, contact Ryan Purdy at rrpurdy@ucsd.edu.
Department of Cognitive Science Celebration, April 16, 2011 — Join faculty, alumni and students for an afternoon of intellectually stimulating presentations from UCSD cognitive science faculty and a reception. You can also enjoy the campus-wide Green Open House which is part of UC San Diego's 50th Anniversary celebration. For more information e-mail rrpurdy@ucsd.edu.
Department of Psychology Reunion, April 20, 2011 — As part of the campus-wide 50th Anniversary celebration, join faculty, alumni and students at the Great Hall as we celebrate 45 years of outstanding teaching and research in psychology. Enjoy cutting-edge presentations from professors and a reception. Time: 6-8 p.m. Register here.
Recent Gifts
Help UC San Diego Stay Outstanding
Once again, UC San Diego was rated highly by U.S. News and World Report's rankings of national universities and ranked 35th in the nation. Did you know that alumni giving is one of seven criteria used by the magazine in their rankings? With an alumni giving rate of just 6.5 percent, UC San Diego has the lowest rate of the top 100 schools and ranks 6th out of the 10 University of California campuses. Please help us climb the ladder by giving today a contribution of any size to your favorite area in Social Sciences. Invest in the students of today and tomorrow, and help our campus rise to the head of the class.

To learn more about how you can support the Social Sciences, please contact Doug Kurtz at (858) 822-0805 or dpkurtz@ucsd.edu.


Alumni Updates
Fred B. Fruchthendler '73 (Sociology) is president of a commercial insurance brokerage firm serving Southern Arizona. The family-owned firm is 65-years-old and provides commercial and personal benefits and life products on a regional basis. Fred has also maintained a family commitment to philanthropy over the last 35 years and has served in leadership roles in both industry trade groups and non-profit community organizations including Independent Insurance Agents & Brokers of Arizona, Jewish Federation of Southern Arizona, Handmaker Foundation and the City of Tucson Downtown Advisory Committee. Fred is the current vice chair of the Carondelet Foundation—part of the Carondelet Health Network which operates four hospitals, 26 medical offices and a hospice program—and chairs the strategic planning committee for Jewish Family & Children's Services of Southern Arizona.

Layla Kashani '89 (Political Science) earned her MBA degree in finance from Georgetown University. Her professional track led her through a number of industries: politics under the first Clinton administration, food and beverage with PepsiCo, film at Twentieth Century Fox, television at NBC, e-commerce at GE, before finally establishing her own consulting company in Monaco specializing in Lean Six Sigma. Layla travels the globe to her clients and shares best practices picked up from her broad industry experiences. While managing her own client schedule she assures herself time to work on a personal philanthropic endeavor for Africa, launching a microfinance initiative to build cooperative "tradopolies," singular entrepreneurs banded together for larger market reach.

Dr. Tamara Hicks '91 (Sociology) practices clinical psychology in San Francisco at Potrero Hill Psychotherapy, a clinic she founded and which is now celebrating its 10th anniversary. Tamara is active in the community, having co-founded an agency, Residential and Educational Services, serving adults with developmental disabilities and/or autism as well as volunteering for Disaster Mental Health American Red Cross. Additionally, in the last 10 years she has been an active board member at The San Francisco School and Family Service Agency. Along with her husband and two children, she actively supports sustainable food systems by owning and operating Toluma Farms Goat Dairy in Marin County. The farm was a defunct cow dairy that required significant land restoration of its 160 acres. The property is now certified organic and also has been placed in the Marin Agriculture Land Trust to ensure it remains in the agriculture loop in perpetuity. The farm has a strong educational component to teach youth the importance of locally grown, sustainable food systems.

Lauren Reynolds '93 (Communication) is the founder and president of At Home Care Solutions, a San Diego-based company that provides home care for seniors. She was inspired to start the company by her own mother's need for home care while battling breast cancer. Prior to opening At Home Care Solutions, Lauren spent 15 years working to protect the interest of San Diegans as a consumer and investigative reporter for ABC 10 News. She was honored with 11 Emmy Awards, a Congressional Commendation and Certificates of Recognition from both the California Senate and California Assembly. Lauren currently serves on the UCSD Communication Alumni Advisory Board.

Joe Leventhal '99 (Political Science) is an attorney in Cooley LLP's litigation department in San Diego. After graduating from UC San Diego he received his J.D. cum laude from Georgetown University Law Center. He then served in the White House as deputy assistant to the vice president. In addition to his work at Cooley LLP, he has provided pro bono legal services to a non-profit organization that provides vocational training to wounded veterans. He has also helped Hurricane Katrina victims navigate the FEMA process. In 2008, Joe was named one of San Diego Daily Transcript's Young Attorneys, a ranking of San Diego County's best young lawyers. Joe is active with the Federal Bar Association, serving on the San Diego Chapter's Executive Committee. He also serves as a member of the UCSD Alumni Association Board of Directors.



To subscribe, click here.
To unsubscribe, click here.
News to share or thoughts about this newsletter, click here. UC San Diego Division of Social Sciences reserves the right to publish in whole or in part any submissions received by us.