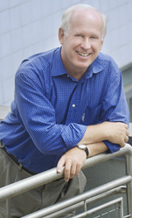 Greetings from Jeff Elman, Dean
In May, the Division of Social Sciences presented a very important panel discussion about California. We featured four faculty members who posed the questions, "California in Crisis: What Went Wrong? How Can It Be Fixed?" As alumni and friends of our university, you may know that the UC system was founded in the 1860's as a land grant college under the Morrill Act, and as such took on a public service mission. We developed this event with our public service mission in mind, which is why we promoted "California in Crisis" to the public and hosted the event at the Museum of Natural History in Balboa Park.

Click to Continue


Social Sciences News
Upcoming Events
UCSD Day at The Padres, Saturday, September 26, 2010 — Celebrate UC San Diego's 50th Anniversary with an afternoon at PETCO Park alongside fellow alumni, staff, faculty and current students. Family and friends are welcome! To find out more, click here. For more information about UC San Diego's 50th Anniversary, visit 50th.ucsd.edu.
Social Sciences Supper Club, October 20, 2010 — Professor Dick Madsen will speak on the "Return of Religion in Post-Secular China," discussing the challenges posed by the rapid development of religion to the Chinese Communist Party's policy and practice. UC San Diego Faculty Club at 5:30 p.m. To register or for more information, please contact Marcie Marsh at (858) 246-0372 or mmarsh@ucsd.edu.
Recent Gifts
The Hugh "Bud" Mehan Scholarship Fund
At the end of the spring quarter more than 200 faculty, staff, alumni and community members came together to celebrate Professor Bud Mehan's distinguished career. Mehan was a professor of sociology and education studies and director of the Center for Research on Educational Equity, Access, and Teaching Excellence (CREATE). Through CREATE, Mehan coordinated UC San Diego efforts to improve academic preparation of underrepresented students through partnerships with K-12 schools and districts, including The Preuss School UCSD. Elected to the National Academy of Education in 1997, he is the recipient of four teaching awards and a public service award at UC San Diego.
In honor of his retirement, the
Hugh "Bud" Mehan Scholarship Fund
has been set up to help low-income youth attend UC San Diego. Gifts will also count toward the university's $50 million student support campaign, Invent the Future. To contribute in Mehan's honor, click
here
.
Alumni Updates
Jesse Stirling '93 (Communication) recently became the Executive Vice President of Beverly Hills Lifestyle magazine after having served as VP of Sales and Marketing at the Canadian cable superstation, NTV. Jesse is pleased to return to Southern California where he can participate in alumni events, including the Communication celebration during Alumni Weekend in June.
In June, both of the inaugural recipients of the Young Alumni Council's Outstanding Young Alumnus Award came from Social Sciences:
Lee Martin III '99 (Economics and Society) has dedicated his life to public safety as San Diego Police Department officer, SWAT team member and undercover detective. He founded PRT Leader Inc., a public safety consulting firm and is an adjunct professor at Palomar College. Last year he recorded a CD for the Agapetos Foundation, with proceeds benefiting children with special needs. Martin still dedicates time to UC San Diego's Eleanor Roosevelt College.
Melody Star Gonzales '02 (Communication) has made the most of her years on Capitol Hill. She is Director of Member Outreach for Representative Xavier Becerra's office in the U.S. House of Representatives. Gonzales is a founding member of the New Latino Movement. She sits on the board of Youth Today and helped to establish the California Chicano News Media Multi-Cultural Journalism Alumni Scholarship. Gonzales currently serves as president of the UCSD Alumni Association's Washington D.C. chapter.

To subscribe, click here.
To unsubscribe, click here.
News to share or thoughts about this newsletter, click here. UC San Diego Division of Social Sciences reserves the right to publish in whole or in part any submissions received by us.