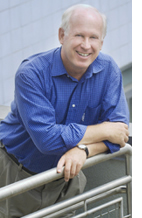 Greetings from Jeff Elman, Dean
As UC San Diego—and the Social Sciences—compete to maintain their level of academic excellence, one thing remains the same: The need for exceptional graduate students is one of the greatest challenges UCSD faces in its goal to remain a top ranked university.

There are several reasons why graduate students play a critical role in the vitality of a great university. Most people realize that world class faculty attract top graduate students, but it works the other way as well. Quality graduate students attract world class faculty because these scholars want to work with the best students. Graduate students also play a key role in mentoring undergraduates, and go on to become the faculty and leaders of tomorrow.

Unfortunately, as the costs of graduate education have risen, prospective students are often forced to choose a school based on available financial support.

Click to Continue


Social Sciences News
Economics Professor Emeritus Robert F. Engle honored with endowed chair.
Political Scientist James Fowler shows happiness is contagious.
Psychologists John Wixted and Hal Pashler report on the smart way to study.
Have King Solomon's Mines been re-discovered? Anthropologist Tom Levy tries to find out.
Economists analyze the nation's financial crisis and assess prospects for the economy.
Social Scientists at UCSD are helping to forge connections between the computational world and the social and behavioral sciences.
Upcoming Events
Social Sciences Supper Club, February 18, 2009 — UC San Diego Anthropology Professor Tom Levy will discuss "The Discovery of King Solomon's Mines." 5:30pm; UC San Diego Faculty Club; $65 includes wine reception, presentation, dinner and parking. For more information or reservations, contact Chris Wojdak at (858) 822-6694 or cwojdak@ucsd.edu.
Economics Roundtable, February 19, 2009 — Phil Verleger, an expert on the economic structure of energy markets and the determination of energy prices, will discuss "Why the Price of Crude Should Never Exceed $80.00 a Barrel." 7:30-9 a.m.; UC San Diego Faculty Club; $50 fee includes parking and Continental breakfast. For more information or to register, call (858) 822-0510 or email emunk@ucsd.edu.
Cognitive Science Reunion, February 21, 2009 — Save the date for the 2nd Cognitive Science reunion! A full day of events is planned with a wine reception and dinner at the UCSD Faculty Club. All undergraduate and graduate alumni are encouraged to attend. For more information contact Beverly Walton at bwalton@ucsd.edu.
Recent Gifts
Encore!

The charitable IRA legislation is back for a repeat performance—don't miss this second-chance opportunity to make tax-free gifts from your IRA!

There's good news for individuals aged 70.5 or older with individual retirement accounts. Thanks to the extended charitable IRA legislation, you can once again make outright gifts using IRA funds without tax complications up to $100,000 per year.

If you are required to receive minimum distributions from your IRA and you do not need the money for personal use, consider using those funds as a charitable gift. While you cannot claim a charitable deduction for the IRA gifts, you will not pay income tax on the amount. Gifts must be completed by December 31, 2009.

This is an excellent opportunity to give to the Division of Social Sciences at UC San Diego! For more information, or if you would like a free copy of our brochure, Use Your IRA the Smart Way, please contact Marcie Marsh, at (858) 246-0372 or visit www.plannedgiving.ucsd.edu.

To learn more about how you can support the Social Sciences, please visit us online or contact Marcie Marsh at (858) 246-0372 or mmarsh@ucsd.edu.



To subscribe, click here.
To unsubscribe, click here.
News to share or thoughts about this newsletter, click here.