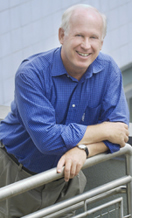 Greetings from Jeff Elman, Interim Dean
Even though I have lived here for more than 30 years, I've never gotten used to December in San Diego. As someone who grew up on the east coast, I have always equated the holiday season with cold temperatures and lots of snow. The plethora of palm trees and lack of any kind of precipitation — freezing or otherwise — makes it hard to get in the holiday spirit.

However, weather is one of the tricks we like to use when recruiting new faculty to UCSD. We'll cleverly fly someone in from the east coast in January and dazzle them with the 75 degree heat wave we are having. It's hard to turn that down when they think about how they have to unearth their car from three feet of snow when they get home.

A lot of students choose UCSD because of its location, too. Many alumni tell me that they chose UCSD because they wanted to be near the beach. Others say they wanted to be far from their parents, yet close enough to come home on the weekends. And, more than 30% of you stayed in San Diego County after graduation. That's more than 40,000 UCSD alumni living in our own backyard. If you're interested in connecting with former classmates, visit http://alumni.ucsd.edu/online.htm. It's free for alumni to register. You can post messages, update your profile, connect with other alumni and search available jobs.

Best wishes to you and yours this holiday season!


Social Sciences News
A study co-authored by anthropologist James Moore finds that chimpanzees' ability to use tools may provide insights into human evolution.
Political Science graduate student, James Long, selected as a grantee by the Fulbright program for his research on political accountability in Africa.
Economist Richard Carson explains why Lindbergh Field is the best airport option for San Diego.
Gerald Mackie, assistant professor of Political Science, cited for his work with award-winning human rights organization, Tostan.
Sociologist Steven Epstein honored with the Robert K. Merton Professional Award for his book, Inclusion: The Politics of Difference in Medical Research.
Marta Kutas, chair of the Cognitive Science Department, received the Distinguished Career Award from the Society for Psychophysical Research.
Upcoming Events
Social Sciences Supper Club, January 30, 2008 — UCSD Political Science Professor Gary Jacobson will discuss the upcoming presidential primaries; 5:30pm; UCSD Faculty Club; $65 includes presentation, dinner and parking. For more information or reservations, contact Chris Hillis at (858) 822-6694 or chillis@ucsd.edu.
Economics Roundtable, February 13, 2008 — "Why Does Immigration Divide America?" Find out when UCSD economist Gordon Hanson presents; 7:30-9 a.m.; UCSD Faculty Club; $50 fee includes parking and Continental breakfast. For more information or to register, call (858) 822-0510 or email emunk@ucsd.edu.
Recent Gifts

Check, Please!
Cognitive Science alumnus, Robert Glushko, Ph.D. .79 recently presented department chair Marta Kutas with a check for $151,000. The gift represents his matching pledge for the Glushko Challenge, which succeeded in raising more than $300,000 for the world-renowned department.
Don't Miss Out! Tax Saving Gift Opportunity Ends Dec. 31, 2007
If you are 70½ or older, recent legislation benefits you! Under the Pension Protection Act of 2006, you can make lifetime gifts using funds from your individual retirement accounts (IRAs) without undesirable tax effects. Your gifts can be accomplished simply, and they will enable you to jumpstart your legacy and witness the benefits of your generosity to UC San Diego.

This is an excellent opportunity to give to the Division of Social Sciences at UC San Diego! For more information, or if you would like a free copy of our brochure, How To Make Charitable Gifs From Your IRA, please contact Michelle Glenn, at (858) 822-0805 or visit www.plannedgiving.ucsd.edu.



To subscribe, click here.
To unsubscribe, click here.
News to share or thoughts about this newsletter, click here.