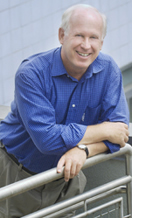 Greetings from Jeff Elman, Acting Dean
On June 8, UCSD held a press conference announcing a successful outcome to its seven-year, $1 Billion Capital Campaign — Imagine What's Next. UCSD Chancellor Marye Anne Fox, Qualcomm founder Irwin Jacobs and San Diego Mayor Jerry Sanders shared the exciting news with a crowd that included local media, staff, faculty, alumni and friends. Chancellor Fox highlighted the impact the money has played in critical research being conducted on campus; Dr. Jacobs emphasized the entrepreneurial spirit of the campus and the hundreds of companies that have spawned from UCSD; Mayor Sanders praised UCSD for being a positive community leader and having a tremendous economic impact on the region. It was an exciting day for our young campus and for everyone who has played a role in its creation and growth.

It's an unparalleled accomplishment to have made our goal. After all, we are the youngest university ever to mount such an effort. We're also the youngest university to be ranked in the top ten nationally among both public and private universities. No other university has achieved this level of excellence in such a short time.

In the process, we've come to appreciate more than ever how important our friends are: members of the community, parents and alumni. We could not have done it without all of you.


Social Sciences News
UC San Diego concludes $1 billion campaign nearly one month ahead of schedule.
Distinguished Teaching Awards honors several Social Sciences faculty members and grad students for excellence in teaching.
Children with family history of autism show different social behavior according to new research conducted by Leslie Carver, assistant professor of Psychology.
Campus mourns loss of faculty member Donald Tuzin, professor of Anthropology and one of the world's foremost authorities on Melanesian Culture.
A taste for equality: Political scientist James Fowler finds egalitarian motives may, to some extent, underlie the evolution of cooperation and reciprocity in humans.
Does your brain have brakes? A new study by cognitive neuroscientist Adam Aron identifies a "braking" mechanism in the brain.
Upcoming Events
Economics Roundtable, July 18, 2007 — What are the "Five Steps Toward American Competitiveness"? Douglas Holtz-Eakin, former Chief Economist of the White House Council of Economic Advisors, will discuss this topic at the next Economics Roundtable; 7:30-9 a.m.; UCSD Faculty Club; $50 fee includes parking and continental breakfast. For more info or to register, call (858) 822-0510 or email emunk@ucsd.edu.
Recent Gifts
There's still time to double the impact of your gift to the Cognitive Science department! Alumnus Robert Glushko, Ph.D. '79, has generously provided $250,000 as a one-to-one match for gifts supporting Cognitive Science. This is in addition to the $250,000 he has already given to support graduate fellowships and a distinguished visitor series for the world-renowned department. The deadline to receive the gift match is June 30, 2007. To make a gift, please go to http://www.cogsci.ucsd.edu/index.php?cat=gifts. For more information or questions, please contact Michelle Glenn, director of development, at (858) 822-0805 or mglenn@ucsd.edu.



To subscribe, click here.
To unsubscribe, click here.
News to share or thoughts about this newsletter, click here.