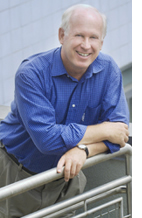 Greetings from Jeff Elman, Acting Dean
Spring is a busy time on campus. Seniors are closing in on the end of their UCSD education, preparing for graduation and the inevitable question of "what next?" The university sends out acceptance letters to hopeful high school seniors; departments are busy recruiting graduate students and new faculty to join UCSD in the fall. In general, there is activity everywhere you look.

In just a few months UCSD officially ends its seven-year, $1 billion capital campaign. We're in the home stretch and feel confident that the goal will be met. To help close out this effort, we're making a final appeal to our alumni. In the coming weeks, you will receive a phone call or letter requesting your support to the Social Sciences Annual Fund. Please give this appeal serious consideration and know that a gift in any amount is greatly appreciated. We'd be honored to have your support and look forward to your participation.

On a personal note, I look forward to the arrival of my first grandchild—a girl—any day now. I'm just like every other parent who can't believe how quickly time has come and gone. It seems like only yesterday when I was dropping my own daughter off at the UCSD daycare center so I could go teach a class. Next thing I know, my granddaughter will be starting kindergarten. Then, who knows? Maybe she'll be a UCSD student someday.


Social Sciences News
Exemplary faculty member and psychologist, Dr. Sandra Brown, was recognized recently with a Chancellor's Associate Faculty Excellence award.
Cognitive Science alum, Robert Glushko, Ph.D. '79, will be recognized for Distinguished Service to University at the 29th UCSD Annual Alumni Awards for Excellence.
Cognitive scientist Vilayanur Ramachandran receives one of India's top civilian awards.
Experience life Through Deaf Eyes: Social Sciences faculty members, Tom Humphries and Carol Padden, are featured in the new PBS documentary which explores Deaf culture in America.
Explore the dark side of the electronics industry in the new book co-edited by Ethnic Studies Associate Professor David Pellow, "Challenging the Chip: Labor Rights and Environmental Justice in the Global Electronics Industry." Pellow and co-editor Ted Smith will discuss the book April 9 in the Seuss Room of Geisel Library from 2-4pm.
Alumni Honored: Four Social Sciences alumni are being honored by the UCSD Hispanic Scholarship Council at the 10th Annual Fiesta de las Estrellas celebration. Javier Benito '85 (Economics), Edward J. De La Rosa '79 (Political Science), Eduardo Rallo-Verdugo '89 (Economics), and Juanita Perez Williams '86 (Psychology) will be recognized for outstanding professional achievement at the April 12 gala, to be held at the Corky McMillin Companies Event Center in San Diego. For ticket information, please call (858) 822-1537.
Upcoming Events
Social Sciences Supper Club, April 25, 2007 — "Is America Ready for an African-American President?" Find out when UCSD Political Science Professor Zoltan Hajnal speaks on the topic; 5:30pm; Atkinson Pavilion, UCSD Faculty Club; $65 includes presentation, dinner and parking.
Economics Roundtable, April 30 — Lawrence H. Summers, past president of Harvard University and the Charles W. Eliot Professor of Economics at Harvard, will be speaking on "The United States and the Global Economy"; 7:30-9 a.m.; UCSD Faculty Club; $50 fee includes parking and Continental breakfast. For more info or to register, call (858) 822-0510 or email emunk@ucsd.edu.
Recent Gifts
The W.P. Carey Foundation recently made a gift of $100,000 to help establish the proposed Sir Clive W.J. Granger Endowed Chair in Econometrics. Named after the UCSD Nobel Laureate in Economics, this endowed chair will support the research and teaching of the chair holder. The Economics department is seeking additional gifts to fully fund the chair. Inquiries may be directed to Director of Development Michelle Glenn at (858) 822-0805 or mglenn@ucsd.edu.

The Bradley Foundation, based in Ramona, CA, made a $50,000 gift to the Ethnic Studies department in support of the Plains Indian Ledger Art Digital Publishing Project. This project is dedicated to presenting and preserving Plains Indian "Ledger" art—drawings on paper—from the late 19th century. You can view details of the project by visiting http://plainsledgerart.org.



To subscribe, click here.
To unsubscribe, click here.
News to share or thoughts about this newsletter, click here.