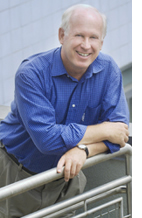 Greetings from Jeff Elman, Dean
The early effects of the Division of Social Sciences' efforts to re-define ourselves are most evident in our work on K-12 education, particularly educational equity. Over the past 12 months, the Division of Social Sciences has begun a re-visioning process on campus designed to create an academic environment focused more on solving some of the significant, real-world problems we face today. For many of these problems — from health care reform to California's governability and many others — the social sciences play an essential role in the solution and the problems themselves hold practical and theoretical interest in which our expert faculty and students can help shed some light.

Click to Continue


Social Sciences News
Upcoming Events
Communication Alumni Networking Event, November 4, 2010 — Hosted at the Surf Diva store in La Jolla Shores, by communication alumni Coco Tihanyi '89 and Izzy Tihanyi '89. The Tihanyi sisters will share how they leveraged their communication degrees into their successful enterprise --Surf Diva Inc. Afterwards, take an insider's tour of their flagship store and enjoy a reception with fellow alumni. Tickets: $10. Time: 6-8 p.m. For more information, please e-mail rrpurdy@ucsd.edu.
UC San Diego 50th Anniversary Founders' Weekend, November 18-20, 2010 — UC San Diego will celebrate its 50th anniversary with a series of events around Founders' Day, November 18, 2010, commemorating the official establishment of the University of California, San Diego. Festivities include a celebration ceremony in the heart of campus at Town Square. For more information on Founders' Weekend events, click here.
Political Science Department Founder's Celebration, November 19, 2010 — the political science department will be honoring its founding fathers, as well as its alumni and community supporters. Featured speakers include professors emeriti Sandy Lakoff & Arend Lijphart, Distinguished Professor Sam Popkin and current department chair, Professor Clark Gibson. For more information, please e-mail rrpurdy@ucsd.edu.
Recent Gifts
Your gift to Friends of Social Sciences makes a difference by helping us continue the innovative work of our faculty and enhance the education of our students. Contributions from friends like you are essential to continue solving the problems that challenge us as individuals, communities and societies. Donors to Friends of Social Sciences receive tickets to UC San Diego Social Sciences events such as Social Sciences Supper Club—one of UC San Diego's most popular dinner lecture series—or the quarterly Economics Roundtable, which features nationally renowned experts in economics, finance, business and public policy. For more information, or to become a Friend of the Social Sciences, please contact Marcie Marsh at (858) 246-0372 or visit Friends of Social Sciences.


Alumni Updates
Makeba Jones '92 (Anthropology and Sociology) went on to earn her Ph.D. in education from the University of California at Los Angeles. She is currently the project research scientist at CREATE (Center for Research on Educational Equity, Assessment, and Teaching Excellence) on the UC San Diego campus. Makeba's research has been published multiple times in educational journals over the last decade, most recently on the topic of urban high schools.

Vince Vasquez '02 (Political Science) is senior policy analyst for the National University System Institute for Policy Research. Prior to this appointment, he was a public policy fellow at the Pacific Research Institute. Vince is the current club leader for California Review Alumni (through the UC San Diego Alumni Association), a group that is dedicated to preserving the legacy of this campus newspaper. Vince remains involved in local politics and spoke last year on an alumni career panel for current students at UC San Diego.

Jayna Altman '04 (Communication) is currently the marketing/creative manager at MiTek Industries, a Berkshire Hathaway company focused on providing software and engineering solutions. In her spare time she travels as a motivational speaker and sits on the board of advisors for Danosky & Associates, a consulting firm which aids non-profit companies in their fundraising efforts. Previously she served as a speaker/spokesperson for Ability Beyond Disability, John Tracy Clinic and Special Olympics, MO. After being named Miss International 2008, Jayna assisted in raising over $10 million dollars for various charities.

To subscribe, click here.
To unsubscribe, click here.
News to share or thoughts about this newsletter, click here. UC San Diego Division of Social Sciences reserves the right to publish in whole or in part any submissions received by us.