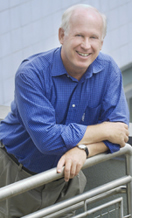 Greetings from Jeff Elman, Dean
In this issue, we profile faculty members Karen Dobkins and Leslie Carver, whose highly technical and equally important work on autism influences many families and has a broader goal of pinpointing autism's origination. Karen and Leslie's research is a journey of discovery as they learn how a person's sensory development at a young age could be a direct pathway to autism. Their research may well change the way autism is treated and, perhaps someday, prevent autism entirely, having a profound impact on our lives.

Click to Continue


Social Sciences News
Upcoming Events
Social Sciences Supper Club, May 19, 2010 — Clark Gibson, chair of the department of political science, speaks about fighting for democracy in Africa, with stories of intrigue, fraudulent elections, and how his research led him to testify before a truth and reconciliation commission and provoked a front page story in The New York Times. UC San Diego Faculty Club; 5:30 p.m. To register or for more information, please contact Marcie Marsh at (858) 246-0372 or mmarsh@ucsd.edu. The next Supper Club is on October 20, 2010.
Communication Department Celebration, June 3, 2010 — As part of Alumni Weekend (June 3-6, 2010), the communication department will host a celebration for alumni that includes a presentation from Dan Hallin, the department chair. Students will host tours of the Media Center and present other notable campus changes. A reception will conclude the evening. UCSD Media Center/Communication Building, 5:30-8:00 p.m. To request an invitation, contact Ryan Purdy at rrpurdy@ucsd.edu.
Political Science Department Celebration, June 5, 2010 — Political science celebrates its 35th anniversary during Alumni Weekend (June 3-6, 2010). Opening remarks will be provided by Chair Clark Gibson, who will offer an update on the department. Other highlights include a keynote address, networking with fellow alumni and political science faculty, and recognition of faculty member Sam Popkin who was recently named the recipient of the UCSD Alumni Association's 2010 Distinguished Teaching Award. Institute of the Americas, 2:00-4:30 p.m. To request an invitation, contact Ryan Purdy at rrpurdy@ucsd.edu.
Recent Gifts
The Future is in Your Hands




The gift of education has the power to transform lives. But that gift is becoming more difficult for bright and talented students to receive in the face of budgetary challenges. To address the growing need for an accessible and affordable UC education in the current economic climate, UC San Diego has launched

Invent the Future: The UC San Diego Student Support Campaign.




The Invent the Future campaign will raise $50 million for graduate fellowships and undergraduate scholarships. With student fees on the rise, the need for financial aid will inevitably grow. Philanthropic support is critical to ensure that talented and deserving students receive the world-class education, academic excellence and research opportunities for which UC San Diego is known.


Please help us support and inspire our social sciences students. Learn more about how you can invent the future at www.inventthefuture.ucsd.edu or contact Doug Kurtz at (858) 822-0805 or dpkurtz@ucsd.edu.


Alumni Updates
Victor Nichols ('78 Economics) became chief executive officer of Experian North America in January 2010. Prior to this appointment, Victor was chief executive officer, UK and EMEA, and leader of Experian's Marketing Services practice globally. Victor leads a team of 6,000 professionals in driving strategic growth across the largest Experian region, with over $2 billion in revenue.
Jeffery Garofalo ('89 Political Science) is a shareholder in Lee, Hernandez, Brooks, Garofalo and Blake, a 20-lawyer construction and business litigation firm in Las Vegas, Nevada. He has been appointed by Nevada's governor, Jim Gibbons, to the Public Employee Benefits Board.
Larry Weintraub ('90 Economics) is CEO of Fanscape, a social media company that provides digital word of mouth marketing for Fortune 500 companies, helping their brands connect to their fans. Clients include Game Stop, M&M's, Kia Motors and MTV.
Lida V. Nedilsky ('02 Ph.D. Sociology) is an associate professor of sociology at North Park University in Chicago. In collaboration with colleagues Joseph Tse-Hei Lee and Siu-Keung Cheung, Lida published "Marginalization in China" in June 2009 (Palgrave Macmillan). Currently she is working on her next book, "Converts to Civil Society."

To subscribe, click here.
To unsubscribe, click here.
News to share or thoughts about this newsletter, click here. UC San Diego Division of Social Sciences reserves the right to publish in whole or in part any submissions received by us.