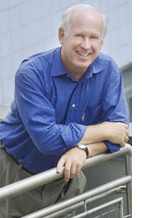 Greetings from Jeff Elman, Dean
A number of people have asked me how UC San Diego is coping with the budgetary crisis. This is clearly an enormously difficult time for people everywhere. The university is by no means an ivory tower. We are, like people all over the world, experiencing tremendous stress as we try to do more with less. So I would like to provide a brief update on how we are dealing with the situation. To anticipate the bottom line: The current reality is tough, but the underlying health of the university remains strong.

Although only 12 percent of UCSD's budget comes from the state of California (the rest comes from research grants, contracts and private gifts), that 12 percent is absolutely critical to us. Click to Continue


Social Sciences News
Social Sciences faculty members Yen Espiritu and Gerry Mackie honored by UC San Diego Chancellor's Associates with Faculty Excellence Awards.
Cognitive connection: Dance and the arts benefit from collaboration with Social Sciences at UCSD.
Is popularity based on genes? Research conducted by Harvard and UC San Diego indicates our place in social networks is influenced in part by our genes.
Eyes on the prize: Do areas of the brain responsible for vision respond more strongly to objects of value?
Education Studies Professor Amanda Datnow co-directs study aimed at improving job-market and college-access for low-income youth.
Upcoming Events
Economics Roundtable, April 29, 2009 — "Under the Obama Administration: Hope and Change in Education?" will be discussed by Julian Betts, UC San Diego professor and chair of the Department of Economics. 7:30-9 a.m.; UC San Diego Faculty Club; $50 fee includes parking and Continental breakfast. For more information or to register, call (858) 822-0510 or email emunk@ucsd.edu.
Social Sciences Supper Club, May 13, 2009 — UCSD Cognitive Science Professor Terry Jernigan will discuss "Brain Architectures and Individuality"; 5:30pm; UC San Diego Faculty Club; $65 includes presentation, dinner and parking. For more information or reservations, contact Dana Williams at (858) 822-6694 or dkwilliams@ucsd.edu.
Recent Gifts
From scholarships for the best and brightest students to funding innovative research, your gifts help support the important research, teaching and outreach activities being carried out in the Division of Social Sciences.

To learn more about how you can support the Social Sciences, please contact Jeannee Ow at (858) 822-6608 or jow@ucsd.edu.



To subscribe, click here.
To unsubscribe, click here.
News to share or thoughts about this newsletter, click here.