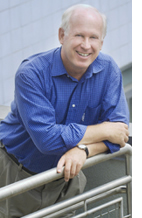 Greetings from Jeff Elman, Interim Dean
During the summer following my high school graduation, I was surprised to receive a letter from the college I was going to attend in the fall, welcoming me as a member of their Alumni Association. At first, I thought it must be a mistake since I hadn't even set foot on the campus, much less graduated. Then I read the letter: "You will be a student here for 4-5 years, but an alumnus the rest of your life." Initially, I was taken aback. As a high school senior, my focus had been on getting into college, not on the rest of my life. But the letter made sense, and the attitude the school was conveying—that I was embarking on a life long association with them—stayed with me to this day.

This is the kind of alumnus engagement I hope UCSD can achieve someday, and it's one of my goals as Dean to help make this happen within the Social Sciences.

Click to Continue


Social Sciences News
David Jordan, professor emeritus of Anthropology honored with the Distinguished Teaching Award by the UCSD Alumni Association.
Two Social Scientists, Roger Gordon of Economics and Tom Levy of Anthropology, are named Fellows of the American Academy of Arts and Sciences.
New study co-authored by economist James Fowler finds that quitting smoking may be good for your social health as well as your physical health.
Sociology professor Hugh "Bud" Mehan honored with a Lifetime Achievement Award by the American Educational Research Association.
U.S. News and World Report cites Social Sciences graduate programs as some of the best in the nation.
Upcoming Events
Economics Roundtable, July 7, 2008 — Janet Yellen, President and CEO of the Federal Reserve Bank of San Francisco will discuss "Prospects for the U.S. Economy and Monetary Policy Implications." 7:30-9 a.m.; UCSD Faculty Club; $50 fee includes parking and Continental breakfast. For more information or to register, call (858) 822-0510 or email emunk@ucsd.edu.
Alumna Book Signing, August 10, 2008 — Annette Smith, Ph.D., Sociology '91, is known to many in the San Diego alcoholism treatment and recovery community for her 35 years of service as a social worker, program administrator and teacher. Now retired and living in Florida, Smith will be in San Diego to sign copies of her new book "The Social World of Alcoholics Anonymous: How It Works." 1-4 p.m.; The Serenity Shop, 4740 Clairemont Mesa Blvd.; For more information, call (858) 581-1979.
Cognitive Science Alumni Reunion—Save the Date! — Calling all Cognitive Science alums! A reunion featuring a variety of activities including faculty seminars and an alumni dinner at the UCSD Faculty Club will be held on Saturday, February 21, 2009. More information will be posted at http://www.cogsci.ucsd.edu/index.php?cat=alumni in the coming months. Stay tuned!
Recent Gifts
New Gift Allows CREATE to Create
The Spencer Foundation of Chicago recently made a $474,375 grant to the Center for Research, Educational Equity and Teaching Excellence (CREATE). The grant will help fund a multi-year research project on "Creating and Assessing a Model System for School Improvement."

To learn more about how you can support the Social Sciences, please visit us online or contact Michelle Glenn at (858) 822-0805 or mglenn@ucsd.edu.



To subscribe, click here.
To unsubscribe, click here.
News to share or thoughts about this newsletter, click here.